Beauty & Self
Books & Music
Career
Computers
Education
Family
Food & Wine
Health & Fitness
Hobbies & Crafts
Home & Garden
Money
News & Politics
Relationships
Religion & Spirituality
Sports
Travel & Culture
TV & Movies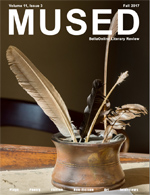 Autumn is a season for counting our blessings. For realizing just how much we have in life where so many others are without. It can often be easy to take things for granted. Things which millions of people desperately dream of having. By pausing for a moment, and looking around with mindfulness, we can find a new center. Begin with fresh energy.

Enjoy the Mused Autumn Equinox 2017 Issue



Heart Condition of Love
Baptist - Celestine A. Gatley, Editor

Do you have a heart for others? Serving others and putting their needs above self is edifying to the body of Christ. The things that we may consider insignificant just might be the motivation or inspiration that someone else needs. Serving others is to serve Christ. When serving we must have lo




Warning: Tech Neck Is Real
Body Care - BB Lee, Editor

Tech Neck is a health problem that was first noticed in adolescent teens who were spending an enormous amount of time texting. However, older adults are catching up.




Simple Sewing Kits
Sewing - Cheryl Ellex, Editor

With little time to sew and busy holidays approaching, searching for just the right gift to give to a sewing enthusiast, traveling friend, college student, charitable outreach or work colleague, among others, may be a challenge. Crafting a compact sewing kit may be just the right thoughtful gift.




DIY Floor Cleaners
Cleaning - Tammy Judd, Editor

Do it yourself floor cleaners can help save you time and money. From hardwood to laminate floor, I've got you covered!




The Dinner Plan Cookbook Review
Quick Cooking - Karen Hancock, Editor

Rarely does a cookbook come out that is written for those of us who are too busy to cook, but love good food. This one is definitely recommended and will keep you cooking new, easy, innovative dishes for months.




Different Types of Makeup Brushes
Cosmetics - Katrina Simmons, Editor

Break out a pencil and pad because it's time for Makeup Brush 101. This article will tell you everything you need to know about makeup brushes. It covers everything from synthetic vs. natural to which brush is for what.


| Google+ |
E D I T O R R E C O M M E N D E D
Best Organic Body Scrub


Over 20+ healing minerals in dead sea salt make this an excellent natural exfoliator and skin polisher. 100% pure dead sea salt is grounded FINE providing gentle but highly effective exfoliation.
The Simple Way to Invest Successfully


Does investing seem too complex? Are you confused about how to invest successfully? Many people fail to invest well because they make money issues too complex. Many others never get started investing because they donīt understand the basics of stocks, bonds, and mutual funds. Investing doesnīt have to be difficult.