Beauty & Self
Books & Music
Career
Computers
Education
Family
Food & Wine
Health & Fitness
Hobbies & Crafts
Home & Garden
Money
News & Politics
Relationships
Religion & Spirituality
Sports
Travel & Culture
TV & Movies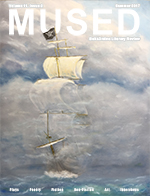 Our time on this Earth is fleeting and precious. We often know that in a vague, intellectual sense, and yet we can find ourselves whittling away those finite minutes without mindful thought. We should celebrate the beauty in a child's smile. The radiant sound of saying "I love you" to that special person. The warm touch of a hand. The delicate scent of a wildflower.

Enjoy the Mused Summer Solstice 2017 Issue



Popcorn Chicken Recipe
Chinese Food - Lila Voo, Editor

Crunchy bites of chicken that are twice fried and perfectly seasoned make a great lunch or anytime snack. Kids will love this popcorn chicken recipe.




Dorm Room Sewing Ideas
Sewing - Cheryl Ellex, Editor

Few living spaces can be as tightly cramped as a shared dorm room. The college of course would have a dorm room checklist as a guideline of essential items for the student to bring. Yet, it can become difficult deciding what to bring from this list, since it all seems so very essential.




Cleaning Lamp Shades
Cleaning - Tammy Judd, Editor

Lampshades tend to collect a lot of dust and particles. By giving them a good cleaning, you can lengthen their life and maintain their beauty.




Boxycharm Subscription Box Review
Cosmetics - Katrina Simmons, Editor

Have you recently considered signing up for a beauty subscription box? Here is a review of Boxycharm, one of many subscription services on the market. Find out both the good and the bad with this popular company.




Left Handed Crochet - Obstacles to Overcome
Crochet - Holly Messenger Aamot, Editor

It's not always easy to learn a craft like crochet when you're left-handed. Here are three obstacles I've struggled with, and overcome, as a left-handed crochet artist.




Five Reasons Kids Should Make Their Beds
Etiquette - Lisa Plancich, Editor

During the summer general routines fall apart. Making a bed should still be a chore that is enforced whether school is in session or not.


| Google+ |
E D I T O R R E C O M M E N D E D
How to Write Sexy Descriptions and Sex Scenes


by Val Kovalin, your BellaOnline editor for the Romance Novels and Fiction Writing sites. This is for writers of erotic romance fiction (M/F and M/M). Part 1 gives writing advice. Part 2 shows how to write sexy descriptions about the human body from head to toe. Part 3 discusses male-male romance fiction, and Part 4 details the common elements of a sex scene.
Best Sweepstakes Newsletter Subscription


Best Sweepstakes is an excellent way to keep up on the latest sweeps and contests via online, snail mail and text entry. Itīs been around for years and is a trusted newsletter among sweepstakers.