Beauty & Self
Books & Music
Career
Computers
Education
Family
Food & Wine
Health & Fitness
Hobbies & Crafts
Home & Garden
Money
News & Politics
Relationships
Religion & Spirituality
Sports
Travel & Culture
TV & Movies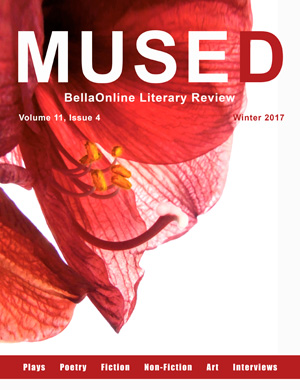 We all travel on this blue-green ball around our very own star each year, sliding a little closer, sliding a bit further away. The balance is critical. Too much closer and we'd roast. Too much further away and we'd freeze.

We should be aware of just how blessed we are that our Earth is "just right" - and do what we can to keep our world healthy. It's the only one we have.

Enjoy the Mused Winter Solstice 2017 Issue



Girl in Snow Book Review
Suspense / Thriller Books - Karen Hancock, Editor

Written in the style of Gone Girl, this fascinating debut novel tells the story of a murdered 15 year old girl through the eyes of Cameron, who stalked her, Jude, who hated her, and Russ who is investigating the murder. Well-written and fascinating.




Seeds of Destruction
Baptist - Celestine A. Gatley, Editor

Your thoughts can spiral out of control. One simple thought can plan a seed of destruction in your life. A simple thought that you may consider harmless could turn into a life separated from God.




Green Eggplant Curry Recipe
Indian Food - Sadhana Ginde, Editor

My delicious Green Eggplant Curry hails from the South Indian state of Andhra Pradesh & is made using small, round green eggplants. This unique Asian variety is very tasty & also easily available in any Indian store or Asian market. Try making this simple & yummy curry for your family today :-)




Vogue Knitting Book Review
Knitting - Korie Beth Brown, Ph.D., Editor

It's BIG. Man, is it big. Depending on who you are, this may or not be a problem.




Yoga Journal and Yoga International
Yoga - Korie Beth Brown, Editor

Two great magazizines for yoga enthusiasts - what could be better?




Christmas Tatting - Inga Madsen
Tatting - Georgia Seitz, Editor

The cover of Inga Madsen's 2017 Christmas Ornament book shows an asymmetrical tatted heart which is very "avant-garde" in construction. It is a wonderful example how we can modernize our traditional tatting designs and find a new metier to explore.


| Google+ |
E D I T O R R E C O M M E N D E D
Jesus of Nazareth


Award winning film produced by Franco Zeffirelli, depicts the life of Jesus Christ from birth to resurrection. Originally made for television in 1977, this set is available on DVD or VHS. Itīs been a few years since I last watched this awesome depiction of Christīs life, but it still remains one of my favorite.
Grave Mercy


Grave Mercy by Robin LaFevers is set in medieval Brittany and features Ismae, a seventeen year-old peasant girl turned assassin who must pose as the mistress of principled knight Duvall in a secretive land of supernatural visions and imminent invasion by the hated French.