Beauty & Self
Books & Music
Career
Computers
Education
Family
Food & Wine
Health & Fitness
Hobbies & Crafts
Home & Garden
Money
News & Politics
Relationships
Religion & Spirituality
Sports
Travel & Culture
TV & Movies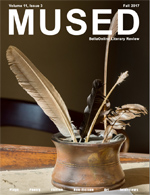 Autumn is a season for counting our blessings. For realizing just how much we have in life where so many others are without. It can often be easy to take things for granted. Things which millions of people desperately dream of having. By pausing for a moment, and looking around with mindfulness, we can find a new center. Begin with fresh energy.

Enjoy the Mused Autumn Equinox 2017 Issue



Stamp Collecting Now
Stamps - Gary Eggleston, Editor

Obviously the first step is to acquire stamps. Many beginning collectors hardly pay for anything when they're just starting to build a collection. Talk to your friends and family and colleagues in the office and simply tell them you'd like to have their stamps if they don't want them.




Coin Pricing
Coin Collecting - Gary Eggleston, Editor

This isn't always an easy question to answer since a coin's value can be subjective. In general, like anything else, a coin is "worth" what someone is willing to pay for it. There are some factors that potential buyers will take into consideration when deciding how much to pay for a coin.




Review - Adobe Spark
Digital Art and Design - Diane Cipollo, Editor

Adobe Spark was released last year. It's a combination of a web app and three mobile apps, for DIY graphic design for social posts, mini webpages, video and much more. With the cloud, your projects are available on both the web platform and the mobile apps.




The Gifted Kids' Survival Guide – Book Review
Children's Books - Launa Stout, Editor

If you're (GT) gifted and talented, you've probably got lots of questions about why you think and learn that way you do. You probably think faster and more intensely than other kids.




Atole - Chocolate and Corn
Mexican Food - Mickey Marquez, Editor

Atole, is called champurrado when made with chocolate. In Mexico, on December 12th, champurrado is front and forward at dawn, when the Feast of the Virgin of Guadalupe begins, it remains there throughout the Christmas season. Made with nixtamlized corn, it is a comfort food with ancient Aztec roots.




Planes, Trains And Automobiles
Movie Mistakes - Isla Grey, Editor

Neal Page is determined to get home for the holidays. Will he make it with the help of Del Griffith. Try to find these movie mistakes in "Planes, Trains and Automobiles".


| Google+ |
E D I T O R R E C O M M E N D E D
Pinnacle Car Care


The Creme De La Creme of Ultimate Car Care is In the House! Using Pinnacle´s product line is like a visit to the salon and the results--magnifique!
LoMásTv


Highly recommended product, if you really want to improve your Spanish. While watching the video you have the option to read, in subtitles, the words in Spanish and, if you also chose it, you can read the translation (in English) for it. Simply... ¡Genial!
True Balance by Sonia Choquette


This terrific guide gives you fun, everyday ideas with which to open and strengthen all seven of your chakra energy-centers, including the third-eye chakra and crown chakra which help you to connect with psychic phenomena and the divine.