Beauty & Self
Books & Music
Career
Computers
Education
Family
Food & Wine
Health & Fitness
Hobbies & Crafts
Home & Garden
Money
News & Politics
Relationships
Religion & Spirituality
Sports
Travel & Culture
TV & Movies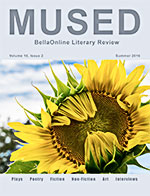 For many people, summertime is the perfect time to explore creativity. Plein air artists bring easels to gardens and beaches, showcasing nature's colors in oils, acrylics, and watercolors. Photographers ferret out a million sights to immortalize. Poets and writers stretch languidly beneath a shady oak tree, listening to the gentle buzz of insects, and constructing entire worlds out of the ether.

Enjoy the creativity of our community of artists - and then explore your own! We'd love to see your works for upcoming issues!

Summer Solstice 2016 issue of Mused

Never Plant In Another's Woman's Garden
Stress Management - Debbie Mandel, Editor

The moral of the story is don't plant in another woman's garden –even if you are asked. Women are competitive creatures and planting for another woman will bring up unruly feelings even if they have been buried deep in the subconscious. Here are 3:




No-Bake Peach Melba Cheesecake Recipe
Desserts - Karen Hancock, Editor

No need to heat up the kitchen; this luscious cheesecake requires no baking and it will draw raves.




La Cienaga Film Review
Drama Movies - Angela K. Peterson, Editor

Lucrecia Martel, leading light of the New Argentine Cinema, burst onto the international scene with her startling debut feature, "La Cienaga". Combining autobiographical elements and a keen ear for dialogue, Martel depicts a family in crisis.




Muck's Sleepover – Book Review
Children's Books - Launa Stout, Editor

Since Muck is needed back at the farm bright and early the next morning Travis suggests he just sleep at the far tonight. Muck has never slept away from home and he pleads to Wendy to let him stay.




5 Keys to Being Fierce
Women's Fashion - LaTeisha Clément, Editor

Let's face it: It's hard to feel fashionable when you don't like your physical appearance. Our bodies are the canvases for fashion, so they are very much needed! Take a step back and reevaluate your perspective. 5 Keys to Being Fierce




Hollow Man Book Review
Suspense / Thriller Books - Karen Hancock, Editor

Successful prosecutor and part-time musician, Dominic has a great life. Except for the fact that he is a sociopath and is trying to make it in the world and appear normal. This is a fascinating thriller with the protagonist's thought process very different than most of us.


| Google+ |
E D I T O R R E C O M M E N D E D
EatingWell Magazine


EatingWell is the award-winning magazine that focuses on healthier eating habits for the entire family. EatingWell magazine features articles on subjects such as how to prevent weight gain during the holidays, foods that boost metabolism, healthy budget dinners, and dangerous ingredients that you may not realize you´re eating.
Ultra Luster Waterless Car Wash


Ultra Luster Waterless Car Wash: Article Coming in Spring but you can buy it now! Waterless Car Washing just got easier and the results just got better! Get yours now at: UltraLuster Wash, Phone: 877-677-4463, Email: sales@ultralusterwash.com, distributors@ultralusterwash.com shipping@ultralusterwash.com customerservice@ultralusterwash.com
Low Carb - First Two Weeks


Get instant access to step by step instructions, handy tips to get you through the rough spots, background information on low carb dieting, and more.